Arena Premier
November 2007 - June 2009
Introduction to Arena Premier
Arena Premier (AP) provides an all-in-one event ticketing, venue access control, cashless payments and CRM solution for event promoters with offices in the United States, Mexico and Ecuador. I entered the team to help transist the company from being a traditional windows-based software provider to a modern Web 2.0 'software as a service' provider.
Projects under Embargo
In order to not reveal trade secrets, Arena Premier have requested that I not post here details of projects that could give advantage to their competition at this time. The works which I produced during my tenure include:
The design and front-end development of a ticket-sales website
The design and front-end development of a web-based administrative back office
The design and front-end development of a html-based-interface touch-screen cash register
The design and development of flash-based interactive maps for seat selection
The design and front-end development of the Arena Premier corporate website (shown below).
As the corporate website is in the public domain, I publish here details of this relatively small project I produced for them towards the end of my time.
The Corporate Website
The corporate website which existed before was a dated Flash presentation which didn't reflect the current business model. I was ask to produce a new site - a project which took about four weeks.
Summary of my involvement
Development of wireframe diagrams
Interface graphic design based upon current corporate branding
Consultation on content writing
XHTML and CSS development
jQuery integration
SIFR Javascript/Flash text-rendering integration
Research and design of solution graphic as shown in second screenshot
Back-end development using ASP.NET 2.0 and Visual Studio
Liaison with the relevant stakeholders throughout
Work pattern according to a CMMI-controlled project plan
Notes: All images were supplied.
The website in the form that the screenshots reveal below was launched in March 2009. The current version can be seen at www.arenapremier.com/corporate.
Screenshots
AP homepage
Notes: The main image changes upon each page refresh.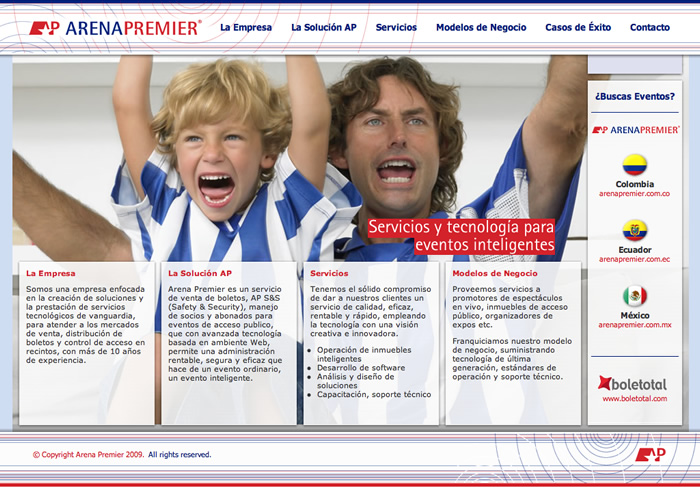 Main product page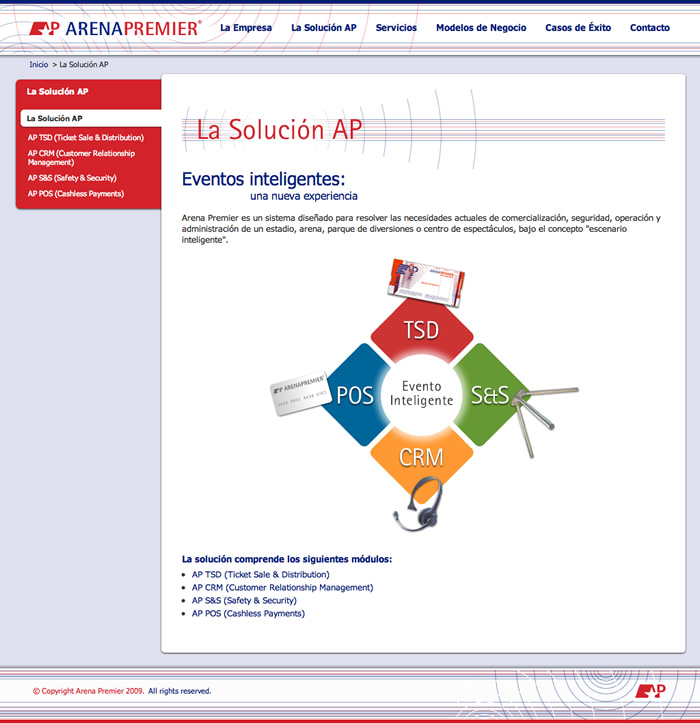 Example content page