Milamex (Mexico City, Mexico)
October 2005 - September 2007
In October 2005 I travelled to Mexico to offer my web design skills voluntarily for two years with a Christian organisation based in the capital city. Amongst other activities, the organisation publishes literature and organises events. I produced a website to give the organisation an online presence, so it can reach a wider audience and make its services more accessible. This venture required me learning Spanish first, so to work alongside the staff of the organisation.
This page contains the following sections:
Screenshots
The following is a screenshot of the homepage: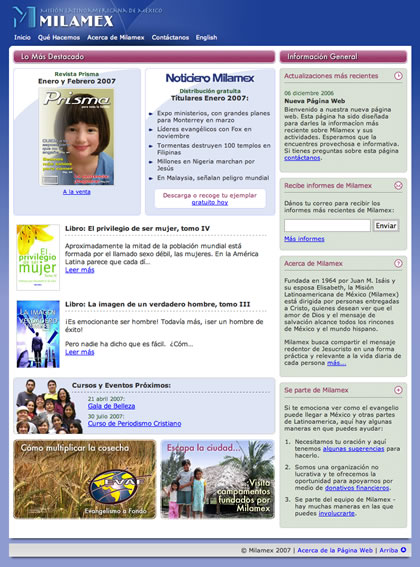 This shows the microsite for the books section: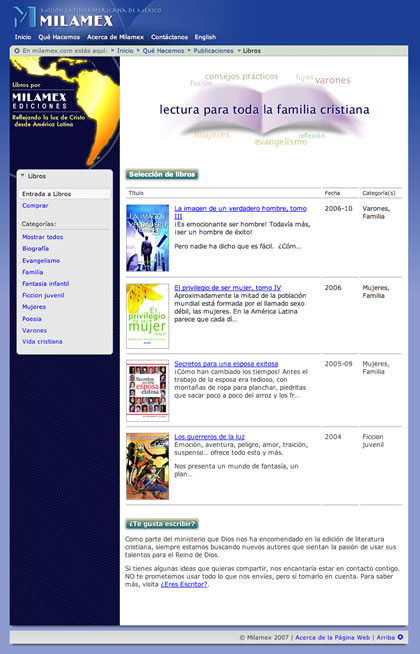 This shows the microsite for the camps operated by Milamex: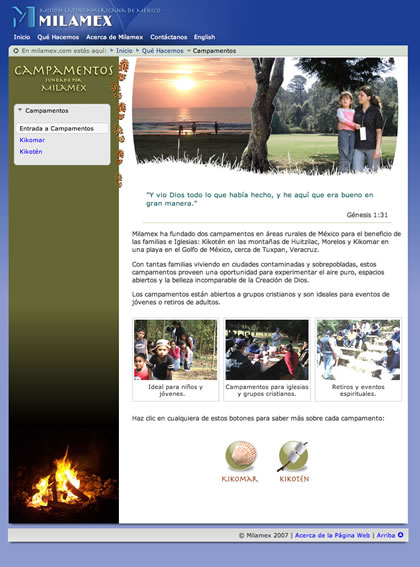 Description
On this project I was involved in every aspect of its production, from planning, architecture, creative design and copywriting through to programming, implementation and delivery. I worked closely with members of the organisation from the director to team members to implement the site.
As the organisation has a number of different activities, I chose to use a 'microsite' model, to give each activity a different graphic theme, though with a related layout and navigational structure. This gave each activity a unique identity without losing the feel that you were within the wider Milamex website.
Progress of the development of this site has been recorded in my blog. See particularly of interest Visualising Milamex.com which shows the development of the site in its early stages with a slideshow of screenshots and feedback from readers.
Link to website
The website can be found at
www.milamex.com
.
There is an english-language section available at
www.milamex.com/english
.